RowanBERRY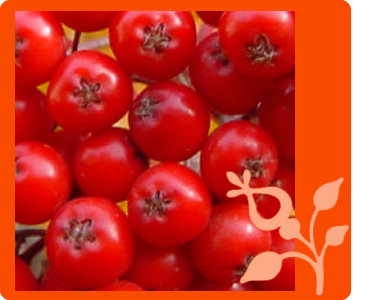 Rowan or Mountain Ash (Sorbus aucuparia)
Family: Rosaceae
Genus: Sorbus
Species: aucuparia
Rowan or Mountain ash (Sorbus aucuparia) is a species of the genus Sorbus, native to most of Europe except for the far south, and northern Asia. In the south of its range in the Mediterranean region it is confined to high altitudes in Balkan mountains. The red-orange rowanberries are ripening in from July to October.
Rowanberries are rich source of antioxidants. An investigation of rowanberry flavonoids showed the presence of rutin, quercetin-3-glucoside and quercetin-3-D-galactoside. Quantitative analysis of berry flavonoids showed quercetin-3-D-galactoside as a major compound, being 24.55 mg/kg (2).
Human food
Rowan or Mountain Ash fruit / berries are too astringent - unpleasant are not suitable to be eaten raw. The fruit (berries) of Rowan can be made into a slightly bitter jelly but also marmalade and juices. The fruit (berries) have many uses e.g.. to flavor liqueurs and other alcoholic beverages.
Rowan berries contain sorbic acid, an acid that takes its name from the Latin name of the genus Sorbus. The bitterness is coming from parasorbic acid which causes indigestion and can lead to kidney damage. It is important that berries are cooked in order to remove bitter taste. Cooking removes parasorbic acid making rowanberries edible.
Medical uses
In traditional medicine, the ripe rowanberries are made into a decoction used as a gargle for sore throats. The berries were used as a treatment for scurvy because of their high vitamin C content. A decoction of the bark is said to be good for diarrhea.
Cosmetic and Beauty Products Industry
Extract of rowanberries containing sorbic acid which is a natural antimicrobial preservative. C vitamin from rowanberries is a natural antioxidant protecting the body cells from free radicals.
Industrial use
The bark has astringent qualities as do all parts of the tree, and has been used in the tanning industry. In northern Sweden and Finland cooked rowan tree bark was used as food for animals during the winter.
Sorbic acid is widely used as a food preservative and its anti-bacterial and anti-fungal properties make it highly effective for food preservation.
Sources
1. Wikipedia
2. BALTACIOĞLU, C., VELIOĞLU, S. and KARACABEY, E. (2011), CHANGES IN TOTAL PHENOLIC AND FLAVONOID CONTENTS OF ROWANBERRY FRUIT DURING POSTHARVEST STORAGE. Journal of Food Quality, 34: 278–283. doi: 10.1111/j.1745-4557.2011.00389.x